10811 West Collins Ave.
Lakewood, CO 80215
CATEGORIES & HEADINGSdetails >>
Harvest Technologies is the leading global manufacturer of point-of-care cellular therapy products. Its innovative Cell CaptureTM Technology enables physicians to derive highly concentrated, autologous cells from their patients in just 15 minutes.

Harvest multicellular processing technology shows promising benefits in optimizing the body's natural healing process. The SmartPrep® system allows physicians to rapidly prepare highly concentrated, autologous platelet rich plasma (PRP) enriched with growth factors that may optimize conditions for healing. The Harvest BMAC® uses the same technology platform to deliver autologous bone marrow aspirate in just 15 minutes at the point of care. The Harvest AdiPrep system generates high quality, purified adipose tissue concentrate from a sample of lipoaspirate in less than 10 minutes.

All Harvest products are proudly manufactured in the United States.

Looking ahead, Harvest will continue to redefine cellular therapy by developing products that deliver the speed, performance and consistency that optimize the conditions for healing.
Vendor Showcase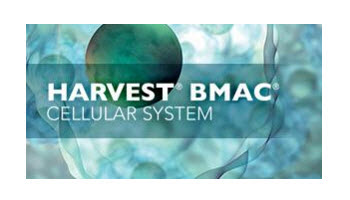 Bone marrow aspiration is a minimally invasive procedure used to collect bone marrow. Harvest BMAC (Bone Marrow Aspirate Concentrate) collects bone marrow from the patient's own body (autologous) and concentrates it to the optimal level while keeping all cell types, including stem cells and other cells that perform distinct functions in the body.

With the Harvest SmartPrep® Multicellular Processing System, Harvest BMAC produces the highest cell yields available while concentrating the full complement of cells:

Concentrates all key cells in their natural ratios
Maintain cells in their natural plasma microenvironment
Concentrates cells in less than 15 minutes at the point of care
Produces consistent and reliable nucleated cell loads2
Together, SmartPrep System and Harvest BMAC deliver benefits competitors can't match. read more